Born To Travel
NIEMA ASH, writer and traveller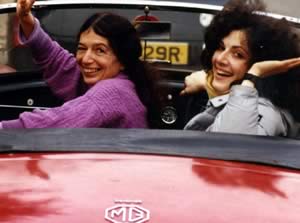 The major events of my life happened on the road. I was married on the road, conceived my daughter on the road, turned from girl to woman on the road. I learned about Buddhism in Tibet, about Islam in Morocco, Hinduism in India, and Judaism in Israel. The road was my university, my church, my love. I left Montreal to travel as an adolescent; I returned as an adult, with a husband, a baby and a career.
In the 60's I formed my own dance group, having studied dance in New York with Martha Graham, the mother of modern dance, in my early teens. Between performances, I helped my then-husband, Shimon, run a folk music club (The Finjan) where famous musicians-to-be, including Bob Dylan, John Lee Hooker, Sonny Terry and Brownie McGhee, performed. Much later, it was through friends from the Finjan that I first met Loreena McKennitt, Canadian harpist and musician. I also enrolled in a University course writing a masters thesis on The Dance Dramas of W.B. Yeats and was the assistant director and choreographer of three of these plays in Montreal's main English speaking theatre, the Centaur.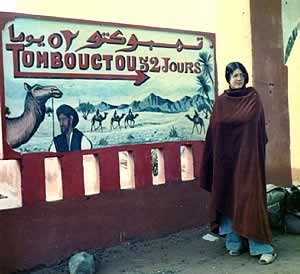 Ronit in North Africa
In the 70's, after Shimon and I separated, I received a Canadian Government grant to complete a doctorate on
Yeats's Dance Dramas
. My ticket to ride was magically re-issued. I packed one suitcase for myself, one for my daughter, Ronit, and we flew to London. Not long after arriving in London I organized
The Yeats Theatre Company
. Yeats's son, Michael, was one of the sponsors. I directed and choreographed two of Yeats's dance plays which were also performed for BBC television. I liked living in London. Aside from its excellent theatre, London was also the perfect travel base. When Ronit was 15, we hitch-hiked through Morocco, Tunisia and Algeria. This fascinating adventure became the basis of my book
Travels with My Daughter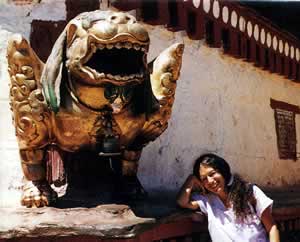 Niema Ash in Tibet
In the 80's I was travelling in China when the door to
Tibet
- a country forbidden to foreigners for centuries - was briefly opened. I was able to live and travel with Tibetans, and experience a Tibet no longer available to travellers. My article
The Sky Burial
described one such now-prohibited experience. It later won a travel award in the London Sunday Times. Part of the award was lunch with the editor who encouraged me to incorporate the article into a book.
Touching Tibet
(previously called
Flight of the Wind Horse
) was the result
.
It is blessed with a treasured
foreword by the Dalai Lama.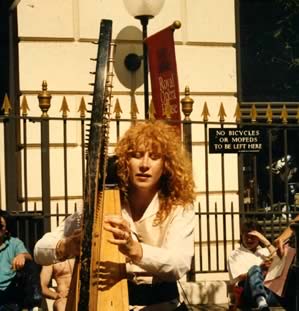 Loreena McKennitt
Many of the musicians from the Montreal Finjan days became close friends.
Probably the closest was Loreena McKennitt, the Canadian singer and harpist whom I met through the actor/musician, Cedric Smith, of whom I have written in TRAVELS WITH MY DAUGHTER.


Niema and Jason
In and around 2005 I met Jason Dors-Lake, son of the acclaimed actress, Diana Dors. Jason asked me to write a book about his mother.
The result is "Connecting Dors", an intriguing story not only about Diana and her fascinating climb to fame against the odds, but of her actor husband, Alan Lake and their son, Jason. It is a wild tale; a story which has never been told.
Travel and friendship remain my two great passions.